Marble Hall at Mirabell Palace
Mirabell Palace Concerts
Mirabell Palace was built around 1606 by Salzburg's Archbishop Wolf Dietrich von Raitenau. It was outside of the medieval city walls and served as a pleasure palace for him and his mistress Salome Alt. It was initially called Altenau Castle. In 1612 (after von Raitenau's deposal) his successor Markus Sittich von Hohenems named it Mirabell Palace.
In the years 1721 to 1727, Archbishop Franz Anton von Harrach had the palace rebuilt into a lavish baroque palace complex. Johann Lucas von Hildebrandt designed the palace plans.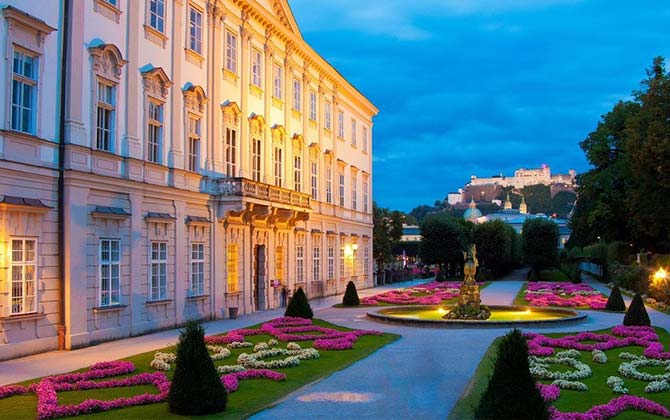 In 1818, a city fire destroyed a large part of the complex. In the subsequent restoration, the building lost much of its former unique baroque appearance. Fortunately, the gardens were not destroyed by the fire. Architect Johann Bernhard Fischer von Erlach designed the gardens in 1687. The gardens were redesigned in small parts before 1720 by Matthias Diesel and after 1730 to a larger part by Franz Anton Danreiter.
In 1866 the city of Salzburg purchased Mirabell Palace. The gardens of Mirabell Palace were donated to the city two years earlier by Emperor Franz Joseph I.
The Marble Hall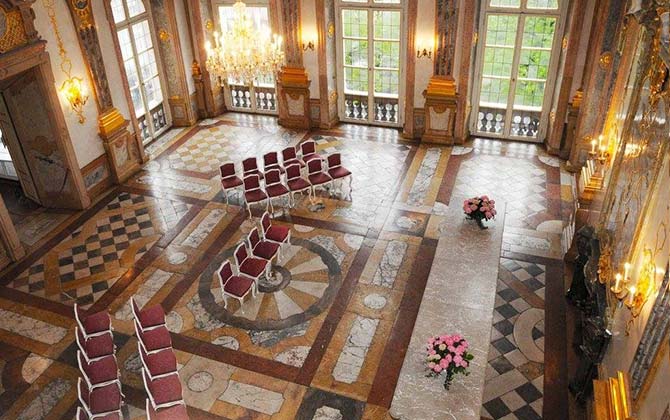 The Marble Hall, formely the Archbishop's festive hall, is widely regarded to be one the most lavish concerts halls in the world. Wolfgang Amadeus Mozart together with his father Leopold and sister Nannerl, gave musical perfomances here. The Marble Hall impresses with its opulent marble and gilded stucco decorations.
How to get to Mirabell Palace
Address
Schloss Mirabell
Mirabellplatz 4
Stiege 8
5020 Salzburg
Concert hall
Marble Hall / Marmorsaal
Air-conditioned
Yes
Wheelchair access
Yes
From most places and hotels in Salzburg's old town, you can reach the Mirabell Palace in a few minutes on foot. Enjoy a short walk in the wonderful Mirabell gardens before the concert. The bus stop closest to the palace is "Mirabellplatz", which you can reach with bus lines 1, 2, 3, 5, 6, 14, 22 and 25.
By car
Like most old towns in Austria, Salzburg is not car-friendly and offers a limited amount of parking spaces. Parking around the Mirabell Palace is subject to charges from Monday to Friday until 7 p.m. and Saturdays until 4 p.m.
There is a parking garage opposite the Mirabell Palace (Mirabell-Congress-Garage), the driveway's address is: Faberstrasse 6-8. There is a reduced fee for concert visitors, please show your garage ticket at the box office.
By Taxi
Taxis are a reliable and common means to get to your concert. Taxis are usually found at train stations and at taxi stands all over the city. Or you can order a taxi by calling +43 662 8111.