Classical concerts Salzburg
Tickets for classical concerts in Salzburg
Salzburg – The music city of Austria! In no other city is the range of chamber music events so rich and diverse. Music is in the air. The historical concert halls of Salzburg leave nothing to be desired, Wolfgang Amadeus Mozart is at home here, his musical genius can be felt on every street corner. MusicofSalzburg is your single point to buy tickets for classical concerts in Salzburg.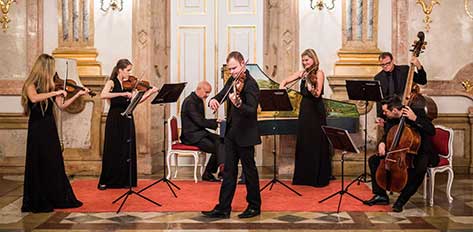 The baroque Marble Hall of Mirabell Palace is one of the most beautiful and historically significant concert halls in Salzburg. The Mozart family once played here for the archbishops of Salzburg. Today the Marble Hall hosts soloists and ensembles, who through their skills carry on in the spirit of Wolfgang Amadeus Mozart and Salzburg's music tradition.
Enjoy a concert and historical dinner at the candlelit baroque hall of the Stiftskeller St. Peter. Experience a unique evening with the baroque hall bathed in candlelight, a menu based on historical recipes, musicians in authentic Mozart period costumes and compositions of Wolfgang Amadeus Mozart - performed in the highest musical quality.
---
Thursday, 28th September 2023

Become enchanted by a historical menu, artists dressed in Rococo costumes and Mozart's compositions, performed in the highest musical quality, at the at the Baroque Hall of the St. Peter's Stiftskulinarium.

The best artists of Salzburg and international ensembles play at the Marble Hall at Mirabell Palace. Experience the works of Wolfgang Amadeus Mozart in a historically informed performance on period instruments from the time of Mozart.
All prices are total prices, including all taxes and statutory fees. We do not add any booking fees or shipping charges.